2019 Traffic Regulations around Old Karuizawa
Traffic regulations will be enforced in the Old Karuizawa area from 11:00 a.m. to 6:00 p.m. every day from April 27 to May 6 and July 15 to September 10, 2019, and on Saturdays, Sundays, and holidays from May to November. Please follow the signs carefully as the roads in the area will be one-way.
<Click here for PDF file (1.2MB)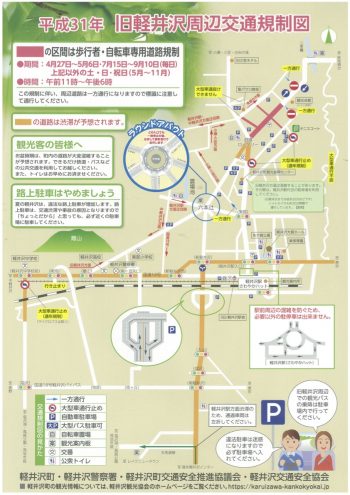 <You can check the status of the bus service on the "Bus Where" page.
<Karuizawa Town Live Camera>.
<FM Karuizawa (77.5) for traffic information in the Karuizawa-Komoro area.
<Road condition images of National Highway No. 18, No. 19 and No. 20 [PC, Smartphone][Mobile] >
<NEXCO East Japan Expressway Information
<For more information about Shinano Railway, please visit the official website.
For Tourists
During the Golden Week period, we expect the roads in the town to be congested. Please use public transportation such as trains and buses as much as possible. Also, please use the restroom as soon as possible.
Don't do this when parking on the street.
Illegal street parking increases in Karuizawa in summer. On-street parking can cause traffic congestion and accidents, so please be sure to park in a nearby parking lot, even if you think it is just for a short time.