2019 Karuizawa Photography Contest Photo Exhibition Extended Term
In light of the government's request to cancel or postpone the event, as well as the circumstances of the past few days, we have decided to postpone the "2019 Karuizawa Photo Contest" exhibition scheduled for March 7-29, 2020, until April or later.
As soon as the schedule can be adjusted, we will announce it on the Karuizawa Tourist Association website. Thank you for your understanding.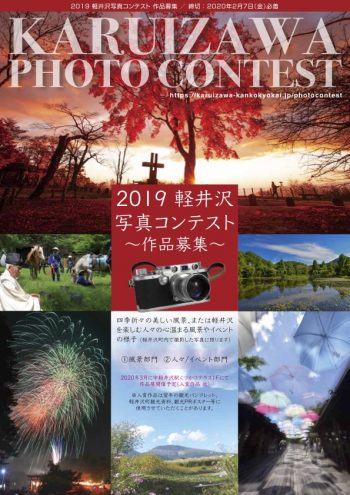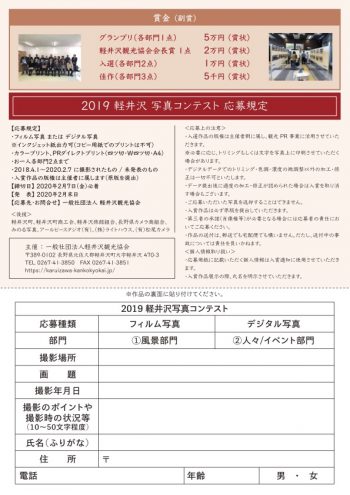 Click on the image above to open the PDF file.
2019 Karuizawa Photo Contest Call for Entries
Beautiful scenery of the four seasons or heartwarming scenes of people enjoying Karuizawa and its events (Photos must be taken in the town of Karuizawa)
(1) Landscape section (2) People/event section
Exhibition of winning entries and other works to be held on the 1st floor of the Kutsukake Terrace at Nakakaruizawa Station in March 2020.
Winning entries may be used in the following year's tourism brochure, Karuizawa tourism materials, tourism PR posters, etc.
Prize Money (Extra Prize)
Grand Prix (one in each category) 50,000 yen (Certificate)
Karuizawa Tourist Association Chairman's Prize: 1 prize of 20,000 yen (Certificate)
Honorable Mention Award (2 pieces in each category) 10,000 yen (Certificate)
Honorable Mention (3 works in each category) 5,000 yen (Certificate)
2019 Karuizawa Photo Contest Entry Rules
Film or digital photos
Inkjet paper output is acceptable (printing on copy paper is not acceptable).
Color prints, PR direct prints (4×4, Wx4, A4)
Up to 2 items per person in each category
・Photographed between 4.1.2018 and 2.7.2020 / Unpublished work
The copyright of the winning entries belongs to the organizer (submit the original).
Deadline] Must arrive no later than February 7, 2020 (Friday)
[Announcement] End of February 2020
Karuizawa Tourist Association
*Please click on the image above for the application form and application details in PDF format.
Application Notes
The copyrights of the winning entries belong to the organizer and will be used for tourism PR projects.
*We may crop or print text on the photo if necessary.
No processing or modification of digital data other than cropping and fine-tuning of color tone and density is allowed.
If excessive processing or modification is found after the data has been submitted, the prize may be cancelled.
We will not be able to return the submitted photos.
All winning entries must be submitted in the original format.
If you need a third party's permission (portrait rights, etc.), please submit your entry at your own risk.
We will not be responsible for any accidents that may occur during the shipping process. However, we will not be responsible for any accidents that may occur during shipping.
<Handling of Personal Information
Personal information provided on the application form will be used to notify the winners of the prizes.
The names of the winners will be clearly displayed at the exhibition.
support
Karuizawa Town, Karuizawa Town Commerce and Industry Association, Karuizawa Ryokan Association, Nagano Camera Dealers Association,
Minoru Photography, R.B. Studio, Lighthouse, Matsuo Camera Co.
2018 Karuizawa Photo Contest Results!
1) Landscape Division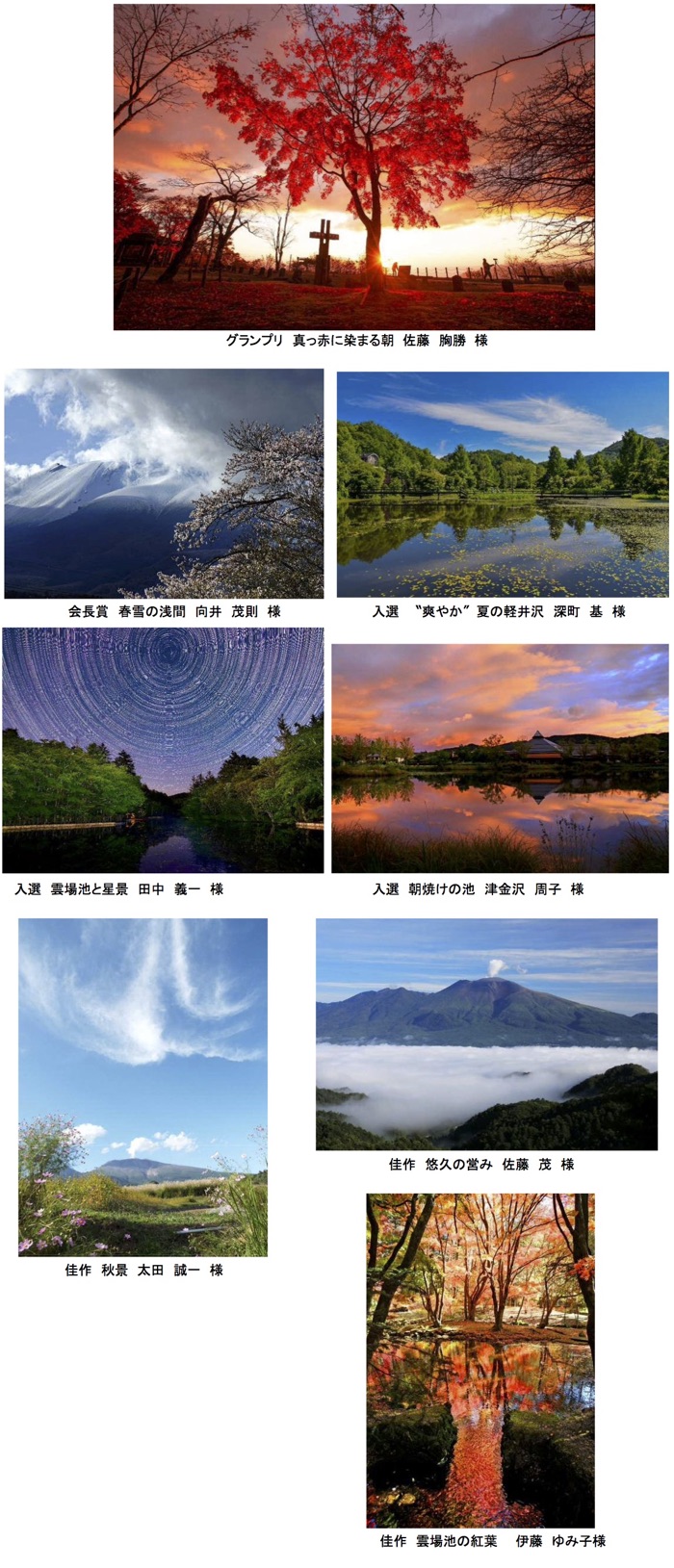 (2) People/Event Department