We will hold a joint information session for Karuizawa resort weddings at Shinagawa Prince Hotel.
All of Karuizawa's leading wedding venues will be gathering in Tokyo to provide information on resort weddings in Karuizawa.
If you are interested in resort weddings or just starting to think about a wedding, please feel free to join us.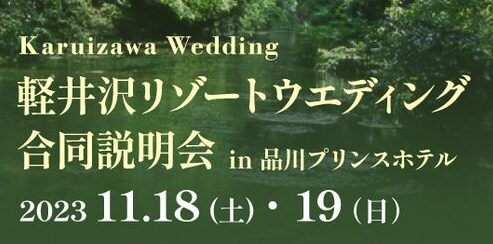 ◆Date and time
Saturday, November 18, 2023
11:00~ 14:00~ 16:00~
Sunday, November 19, 2023
10:00~ 13:00~ 15:00~
*Reservations required
◆ Location
Shinagawa Prince Hotel
Sapphire 22, 22nd floor, Main Tower
Google MAP
◆Free of charge
Explanation of Karuizawa Weddings and information at each wedding booth of your choice
Click here to apply for participation.
Click here to contact us.
TEL: 050-5841-2360 (reception hours: 10:00 – 20:00)
◆Participating Ceremonies
Karuizawa Prince Hotel Forrestana Karuizawa
Hotel Karuizawa Elegance Mori Chapel Karuizawa Chapel
Kyukaruizawa Hotel Otohanomori Kyukaruizawa Chapel
Hoshino Resort Karuizawa Hotel Breston Court
Karuizawa Club Ariake Residence
Villa des Mariages Karuizawa
Aneri Karuizawa
Le Grand Karuizawa Hotel & Resort