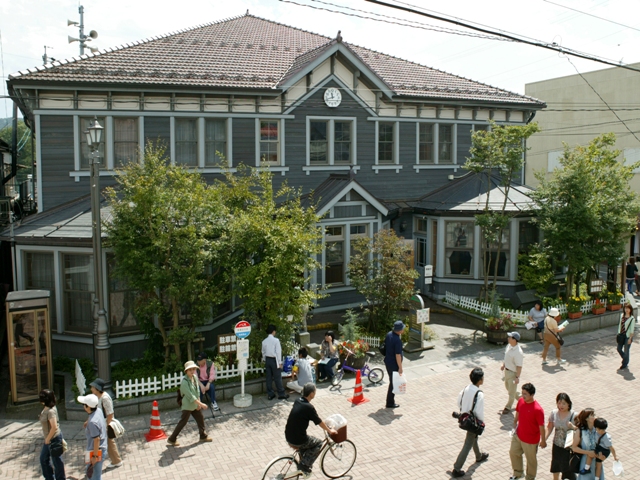 Karuizawa Kanko Kaikan, with its retro wooden exterior, is a symbol of the old Karuizawa shopping district. The first-floor hall is a general information center that provides information on the town's sightseeing and accommodations, as well as a rest area for visitors to take a break from strolling and shopping. There is also an audiovisual space that introduces the highlights of the area. The museum is equipped with a wireless LAN hotspot, allowing visitors to access the Internet free of charge (electrical outlets are not available). The public restrooms are available for a fee of 100 yen per visit (free of charge for the handicapped/handicapped-accessible restrooms, changing rooms, and diaper changing stations are also available), and the Karuizawa Railway Mini Museum on the second floor displays valuable materials related to Karuizawa's railroad industry. In addition, the museum offers exhibition space and meeting rooms for rent for a fee, and from April 2020, a co-working space will also be available. Please refer to the "Details on the use of the Kanko Kaikan" and "Details on the co-working space" below, and contact us if you have any questions.
Access, etc.
Hours: 9:00 – 17:00 (Summer: ~18:00) *Summer: July 16 – late August Closed: Year-end (usually 12/28 – 12/31)
Admission: Free
Facilities: Charged
Public restrooms (100 yen per person per visit *free for disabled persons)
Location: 739-2, Karuizawa, Karuizawa-cho, Kitasaku-gun, Nagano, Japan
Phone: 0267-42-5538 FAX: 0267-42-8750
Access : Nagano Shinkansen Karuizawa (5 min. by bus from the station, 5 min. walk from the old Karu rotary)
Nearest IC: Joshinetsu Expressway: Usui Karuizawa IC (12 km from the IC)
Parking: None
Administrator: Karuizawa Tourist Association
Phone: 0267-41-3850
Upcoming Events
<For information on upcoming events, click here>.
Examples of past events
Movie screenings Product exhibitions Painting and craft exhibitions Prototype exhibitions and critiques of Karuizawa carved furniture Conferences, lectures, seminars, study groups, etc.
Details on the use of Kanko Kaikan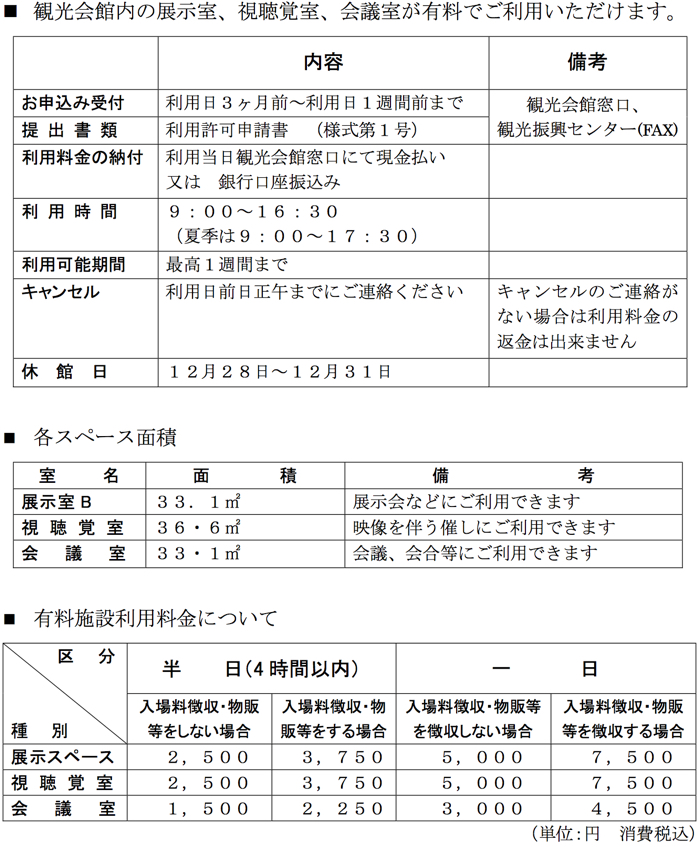 Kanko Kaikan Usage Regulations (Please be sure to read before applying)
Download Kanko Kaikan Rules of Use PDF file
*You are deemed to have agreed to the above regulations when you apply.
Karuizawa Kanko Kaikan Application Form (New, Change, Cancellation)
Download Karuizawa Kanko Kaikan Use Permit Application Form PDF file
Download PDF file of Karuizawa Kanko Kaikan usage change/cancellation form
Application for use FAX: 0267-42-8750
More about coworking space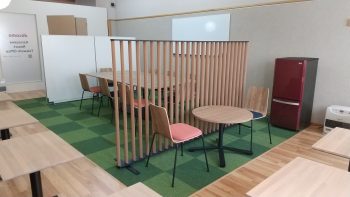 Hours: 9:00-17:00 (GW and summer season 9:00-18:00)
Contracted seats: 13 (contracted until the end of 2020), visitor seats: 3-5
Fee: 1200 yen (tax included) for up to 4 hours, 300 yen (tax included) for each additional hour
For one-day use, 2000 yen (tax included) for reservations made by the day before, payment in cash only.
You are free to bring your own beverages, but please use the rest area on the first floor for meals.
Free Wi-Fi, power outlets, refrigerators, and restrooms.