This year, a summer festival will be held in Shin-Karuizawa!
However, due to Typhoon No. 7,
All events scheduled to be held on the 15th will be cancelled. (Children's portable shrine parade, fair, Bon dance)
The event scheduled for the 16th is postponed to the following day, the 17th,Fireworks display has been changed to the 17th, 7:00 p.m.-.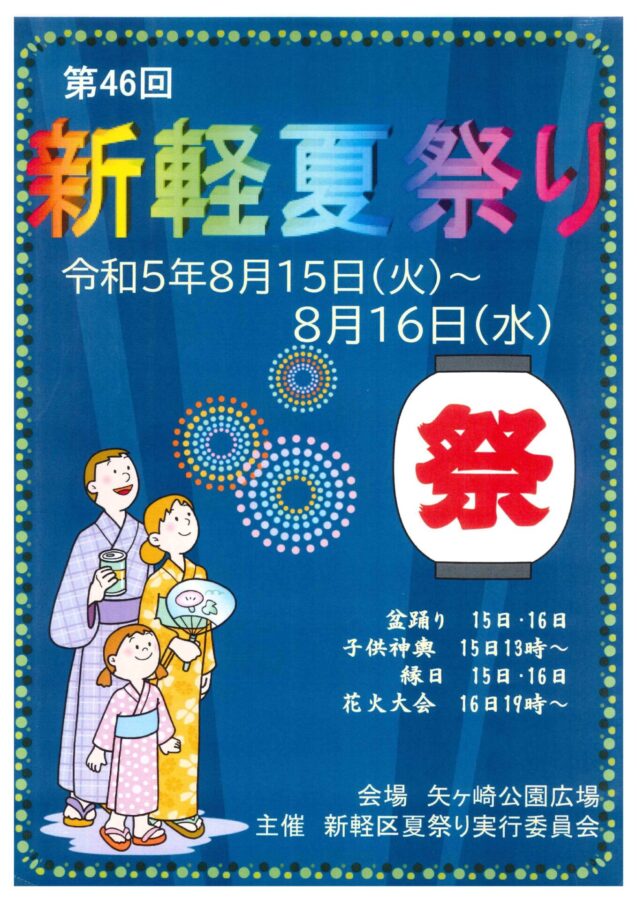 Date: Tuesday, August 15, 2023 – Wednesday, August 16, 2023
⇒Only on August 17 (Thu.)

Bon dance 15th & 16th
⇒Only on 17th

Children's Mikoshi (portable shrine) 15th 13:00-
⇒Cancelled

Fair days 15th and 16th
⇒Only on 17th

Fireworks display 16th 19:00-
⇒17th 19:00-

Venue: Yagasaki Park Plaza ↓↓.
https://goo.gl/maps/degjY5Fqwo671L6P8
Organized by: Shinkyaku-ku Summer Festival Executive Committee