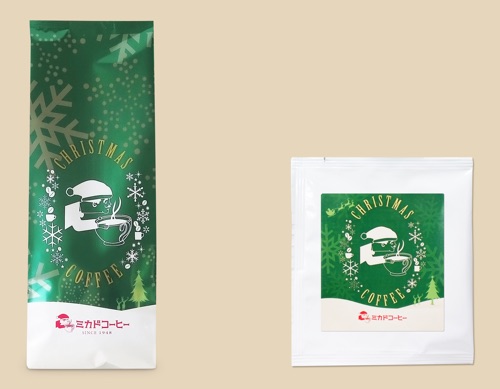 Christmas Coffee 2018
Fruity acidity with a hint of dark chocolate bitterness. Citrus freshness at the top, followed by a caramel-like mouthfeel and a mellow richness. It has a well-balanced taste. It goes well with various Christmas desserts.
fragrance
Caramel, citrus
The roaster's commitment
Beans from three different regions (three continents) are roasted separately and then finished with an after-mix technique.
degree of roasting
city roast
manufacturer's suggested retail price
1. 150g bean, powder, 1,000 yen (including tax) + consumption tax / 1,080 yen (including tax)
2. one-pack coffee (simple extraction type) = 10 g per cup, 125 yen (including tax) / 135 yen (including tax)
*Sales start date, menu prices, etc. may differ depending on the directly-managed store. Please understand in advance.
Recommended Cakes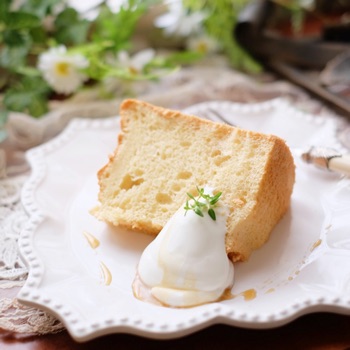 November: Maple Chiffon Cake with Banana Paste
Maple syrup from Quebec, Canada, is used. The cake is soft and fluffy with banana paste kneaded into the dough.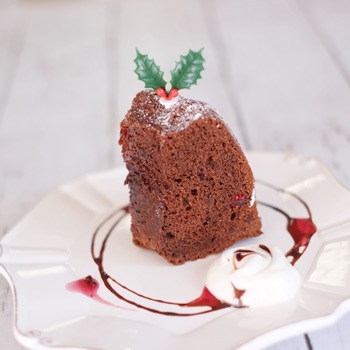 December: Christmas Cake 2018 (Will be served from December 1~December 25.)
This adult cake is baked with sweet and sour cranberries in a moist chocolate batter.
*Photographs are for reference only. They are subject to change.
Please note that the quantity is limited due to the fact that the pastry is handmade by Mikado Coffee's pastry chef.
The cake itself, decorations and plates may vary slightly from those shown in the photos.
Mikado Coffee Karuizawa Old Road Recommendation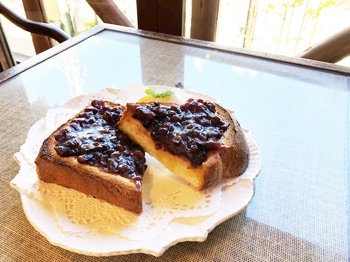 New menu "Ogura Toast
Bread is from "France Bakery" on the old road,
The Ogura is made from 100% Hokkaido azuki beans. It is served with fresh cream.
Available individually or in a set with coffee or other drinks.
Mikado Coffee Karuizawa Prince Shopping Plaza Recommendation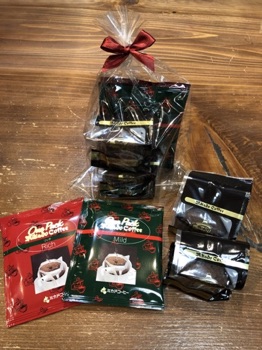 Christmas Petit Gifts" at Prince Shopping Plaza in Karuizawa
The contents are 2 truffle chocolates and 2 one-packs (1 rich and 1 mild) = 650 yen (tax included).
Mikado Coffee Karuizawa Tsuruya Recommendation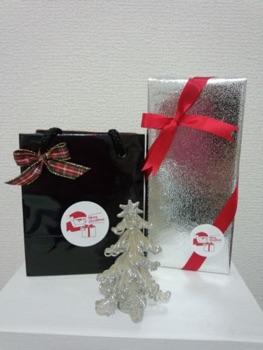 Christmas petit gift, Christmas wrapping for mocha chocolate cake
(*Pictures are for illustrative purposes only.)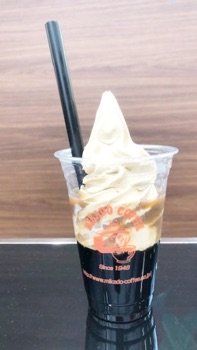 MAJO Crash
It is a jelly drink with coffee jelly, iced coffee, and mocha soft serve.
Handling location
Mikado Coffee
Karuizawa Old Road Branch
Karuizawa Prince Shopping Plaza
Karuizawa Tsuruya Store
*For more information, please go to the tourist facility information at the bottom of the page.
For inquiries, please contact
03-3453- 9016 (main office, main representative)
For more information, visit the official website.