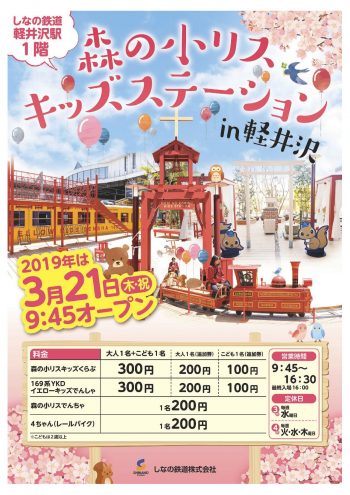 *Click on the image to see a large image.
The 2019 season will finally open on March 21 (Thursday, holiday) at the Little Squirrel Kids Station in the Forest.
open day
Thursday, March 21, 2019
Business Hours
9:45 – 16:30 (last admission at 16:00)
regular closing day
Wednesdays during March; Tuesdays, Wednesdays, and Thursdays in April
Admission Fee
Admission is free.
Facility Usage Fees
Series 169 YKD adult/child ticket 300 yen, additional adult ticket 200 yen, additional child ticket 100 yen (the fee has changed this year)
Red Dencha tickets are 200 yen and 4 chan 200 yen.
*At least 2 years old for both.
We look forward to serving many of you.