Karuizawa Traffic Comfort Measures
During Golden Week (April 29 (Thursday, national holiday) to May 5 (Wednesday, national holiday), Karuizawa traffic comfort measures will be implemented.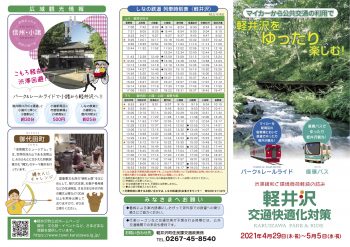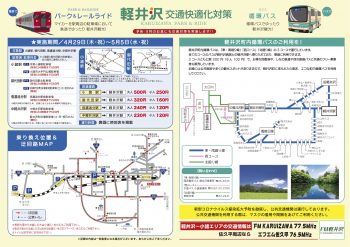 Traffic Comfort Leaflet (PDF/5MB)
Karuizawa Traffic Comfort Measures…
We will promote the use of parking lots near the Komoro, Miyota, Shinano Oiwake, and Nakakaruizawa stations for transferring to the railroad and the use of the town's circular buses for travel within the town.
To avoid traffic congestion, please follow the detour signs. Please use FM Karuizawa (77.5 megahertz) for information on traffic conditions in the town.
Aim of Measures
Visitors are encouraged to park their own cars in suburban parking lots and transfer to public transportation (railroads and buses) to enjoy the natural beauty and townscape of Karuizawa in a relaxed atmosphere.