Special exhibition of masterpieces from the golden age of Paris, centered on Tsuguharu Fujita, the darling of the age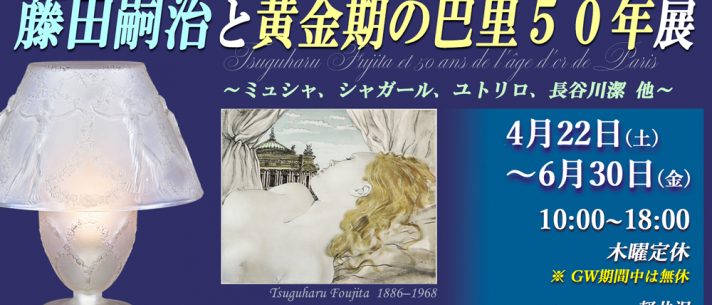 Spring has arrived.
Atelier Blanca Karuizawa, which has been closed for the winter, will begin operations on April 22 (Saturday).
This season, the Karuizawa store held a special exhibition titled "50 Years of Tsuguharu Fujita and Golden Age of Paris.
In the intervening years between the two world wars, artists from all over the world gathered in Paris and created new artistic styles one after another. Works by painters of the Ecole de Paris, led by the heretical painter Tsuguharu Fujita, and arts and crafts of Art Nouveau artists such as Alphonse Mucha and Emile Gallé are on display and for sale.
If you are ever in Karuizawa, please stop by our store for a taste of Paris in the good old days.
session (of a legislature)
Saturday, April 22, 2023 – Friday, June 30, 2023 10:00 – 18:00
Closed:Thursdays (open all year round during GW)
venue
Atelier Blanca Karuizawa
*For more information, please go to the tourist facility information at the bottom of the page.
parking lot
Parking for up to 2 cars (free of charge)
Contact Us
Atelier Blanca Karuizawa 0267-42-2320
Or visit info@atelier-blanca.comまで
For more information, please visit the Atelier Blanca website.
https://www.atelier-blanca.com/
Click here for the special feature page