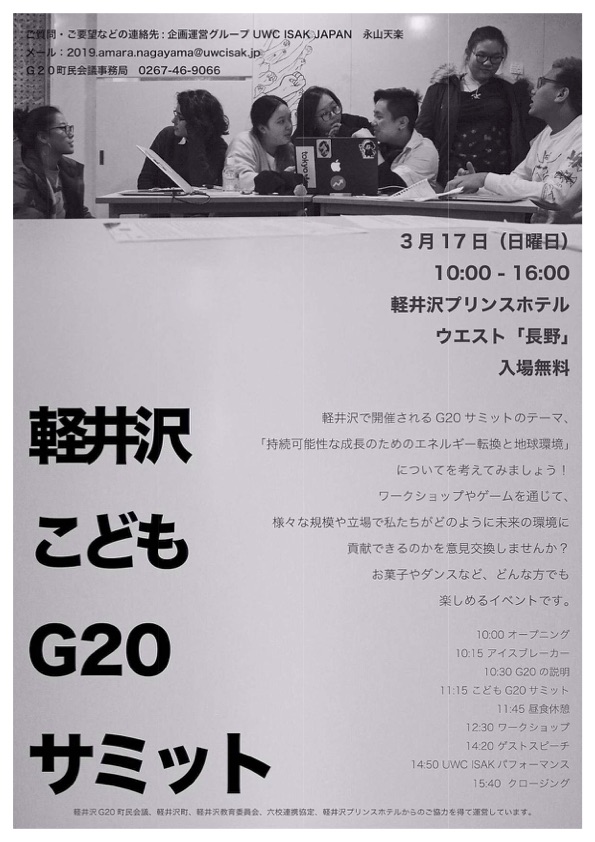 Let's think about the theme of the G20 Summit to be held in Karuizawa, "Energy Transition for Sustainable Growth and Global Environment"! Through workshops and games, let's exchange ideas on how we can contribute to the future environment on various scales and in various positions. This is an event that anyone can enjoy with snacks and dancing.
No advance registration is required and everyone is welcome to attend. However, the conference is for children only. The general public is welcome to observe and participate in other hands-on events.
10:00 Opening
10:15 Icebreaker
10:30 Explanation of G220
11:15 Children's G20 Summit
11:45 Lunch break
12:30 Workshop
14:20 Guest Speech
14:50 UWC ISAK Performance
15:40 Closing
Date & Time
Sunday, March 17, 2019, 10:00-16:00
Location
Karuizawa Prince Hotel West "Nagano
Charge
Free Admission
Contact for questions, requests, etc.
Planning and Administration Group UWC ISAK JAPAN Nagayama Tenraku
MAIL : 2019.amara.nagayama@uwcisak.jp