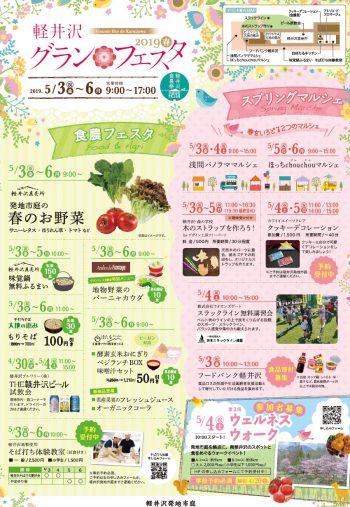 *Click on the image to see a large image.
At the Spring Marche, visitors can enjoy eating and shopping, as well as make wooden straps, try their hand at cookie decorating, and take a free slackline class. At the Food and Agriculture Festa, in addition to spring vegetables such as sunny lettuce, spinach, and tomatoes, there will be free tasting of aji-nabe hot pot, local beer tasting, soba noodle making classes, and more.
We look forward to seeing many of you there. Some events require advance reservations. Please check the official website below.
Date & Time
2019/5/3 (Fri.)-6 (Mon.) 9:00-17:00
Location
Karuizawa Hatsuchi City Garden
*For more information, please go to the tourist facility information at the bottom of the page.
Contact Us
0267-45-0037
For more information, visit the official website.