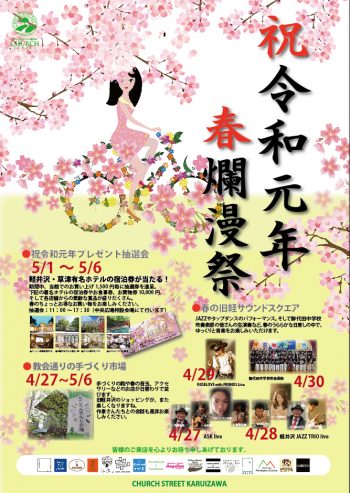 Celebration of the first year of the 20th year of the Showa era Present Drawing
For every 1,500 yen spent, you will receive a raffle ticket to win a present. We are waiting for you with gift certificates for accommodation and meals at famous hotels in Karuizawa and Kusatsu, as well as 10,000 yen shopping coupons and gift items from each store. Please enjoy a pleasant shopping experience. The lottery will be held from May 1 to May 6.
Handmade market on Church Street (4/27-5/6)
This is an annual marché. Leatherworking, accessories, moss balls, and other fun items will be on display.
Old Light Sound Square in Spring
4/27 Live performance by JAZZBAND "ASK" Vocal by Hazel Honbou
4/28 Live performance by JAZZBAND Karuizawa JAZZTRIO Vocal by Ayano Tachihara
4/29 ROSELOVE with FRIENDS Live: Enjoy a tap dancing and singing show by former star of the musical Annie, ROSELOVE and her friends!
4/30 Concert by members of the brass band of Miyota Junior High SchoolThe performance by the boys and girls is really wonderful, which has become a regular event.
In addition, a commemorative photo spot from Heisei to 2021 is also available.
Scheduled from 1:00 p.m. and 3:00 p.m. (partially from 2:30 p.m.)
Place of implementation
Church Street Karuizawa Live at the central plaza (ground floor)
*For more information, please go to the tourist facility information at the bottom of the page.
Charge
free
For inquiries, please contact
0267-41-2501 (Church Street Karuizawa Management Office)
For more information, visit the official website.
http://www.churchst.jp/