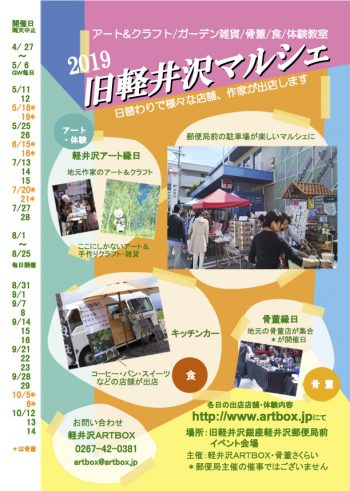 Artists, stores, and kitchen cars from the Karuizawa area open daily. This is a fun marché with arts & crafts, garden goods, food, and hands-on classes.
Location
Event space in the parking lot in front of the Old Karuizawa Ginza Karuizawa Post Office
Period
Saturday, 4/27/2019 – Monday, 5/6/2019 (daily, then every Saturday and Sunday through the fall)
Others, precautions, etc.
Old Karuizawa Ginza will be a pedestrian paradise during the event. Please use nearby parking lots if you are driving.
For inquiries, please contact
Karuizawa ARTBOX 0267-42-0381 artbox@artbox.jp
For more information, visit the official website.