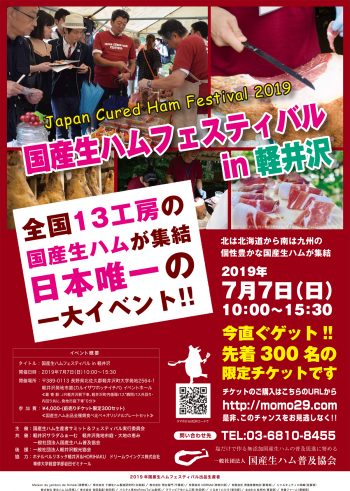 2019.7.7.More than 13 cured ham producers from all over Japan,
This year, they gathered in Karuizawa with their prized cured ham!
Japan's only major event "Domestic Cured Ham Festival in Karuizawa
Producers offer customers freshly cut cured ham from logs by their own hands,
We are waiting for you with even more power.
Date & Time
2019.7.7(Sun) 10:00-15:30
Location
Karuizawa agricultural products direct sales shop "Hochichichiba
*For more information, please go to the tourist facility information at the bottom of the page.
advance tickets
4000yen – Original festival plate with more than 12 kinds of cured ham
Limited to 300 copies available, so don't delay!
For more information, including ticket purchase, visit the official website.