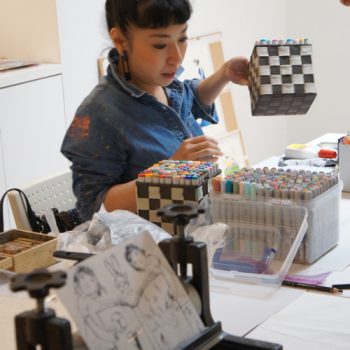 A public art event by a hot young female painter, Anzu Kanie, will be held for only two days this summer, as it was last year.
Please come and see the moment when works of art are born from supple lines and unique colors.
In addition to works and original goods exclusive to the Museum of Contemporary Art Karuizawa, limited edition Anzu Kanie x Ginza West cookie tins will also be on sale, so don't miss out!
Exclusive offer for "2019 Karuizawa Summer Vacation Special" on the official website of Karuizawa Tourism Association
Mention to the staff on the day that you saw the "2019 Karuizawa Summer Vacation Special" on the official Karuizawa Tourist Association website, and you will receive an original postcard of Anne Kanie as a gift (August 13 and 14 only).
Location
Karuizawa Museum of Contemporary Art, 2F Gallery
*For more information, please go to the tourist facility information at the bottom of the page.
Period & Hours
Tuesday, August 13 and Wednesday, August 14, 2019, 13:00 – 16:00
Fees, capacity, etc.
Free (separate admission fee required), no maximum capacity
Others, precautions, etc.
Times are subject to change.
For inquiries, please contact
info_karuizawa@cosmos.ocn.ne.jp
For more information, visit the official website.