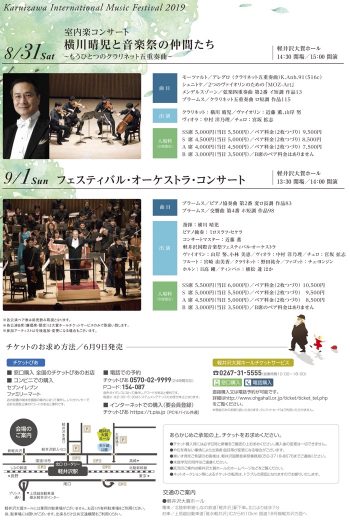 The Karuizawa Music Festival has been held for 18 years since its inception in 2002 as Karuizawa & Music. The festival has welcomed artists active in Japan and abroad, and has offered a wonderful way to spend a summer with music in the world-class summer resort of Karuizawa. The Karuizawa International Music Festival 2019 will be held over two days at the Karuizawa Ohga Hall and will feature a program of chamber music and orchestra performances.
On Saturday, August 31, Seiji Yokogawa, Music Director, will lead a chamber music performance with members of the NHK Symphony Orchestra.
The program includes Mozart's masterpiece K.581 for clarinet quintet and another clarinet quintet, "Allegro," as well as Brahms' Clarinet Quintet, which is on par with Mozart's work, Schnittke's unique violin duet, and Mendelssohn's extremely delicate and beautiful string quartet. The program will also include Schnittke's unique violin duet and Mendelssohn's extremely delicate and beautiful string quartet.
Mozart and Brahms… The trick of these two composers, who are also depicted in the main visual of this year's festival, will continue the next day with the Festival Orchestra.
September 1, Sunday is the annual Festival Orchestra Concert.
Festival artists and amateur players from the Tokyo metropolitan area gather together in the Festival Orchestra, a specialty of this music festival, and the spirit of the Karuizawa International Music Festival, which has no boundaries for those who enjoy music, is gathered here.
This year we are pleased to welcome pianist Miroslav Sekela from Prague to perform Brahms' Piano Concerto No. 2. Miroslav Sekela, who played Mozart as a child in the famous movie "Amadeus," is a pianist with an unusual background, but has since gone on to win the first prize at the Brahms Competition in 2002. Here was the answer to the childhood Mozart and Brahms trick. The program includes Brahms' Symphony No. 4 and other works to be savored in depth, perfect for early autumn in Karuizawa.
Although the summer heat wave continues, Karuizawa still has a freshness to it, with its abundance of greenery. We are looking forward to seeing you in Karuizawa at the end of summer.
For more information, visit the official website.