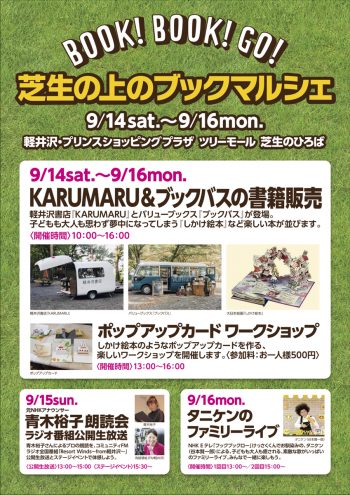 BOOK!BOOK!GO! -Book Marché on the Lawn" at the Karuizawa Prince Shopping Plaza Tree Mall Lawn Plaza.
A book event perfect for the fall reading season! There will be lots of fun for three days!
Saturday, 14th – Monday, 16th
The three-day event will include a KARUMARU & BOOKBUS book sale and a pop-up card workshop.
Sunday, 15th
Former NHK announcer Yuko Aoki reads from a live radio program.
From 1:00 p.m. to 3:00 p.m., the first public live broadcast of "Resort Winds ~from Karuizawa~," a program on the nationwide network of 100 community FM radio stations. Yuko Aoki, well-known for her popular FM Karuizawa program "Karuizawa Reading Walk," will appear live on the public live broadcast. In addition, Namiki Aizato, a Karuizawa drive girl, will also appear live.
Yuko Aoki will appear again for the stage event at 3:30pm. Please enjoy the charm of picture books and live reading.
Monday, 16th
TANIKEN'S FAMILY LIVE.
Taniken (Kenichiro Tanimoto), well-known for his role as "Kesaku-kun" on NHK E-television's "Hook Book Row," will give a family live performance filled with wonderful songs that will soothe both children and adults. Taniken's family live performance is free of charge,
For more information, please visit FM Karuizawa's official website.