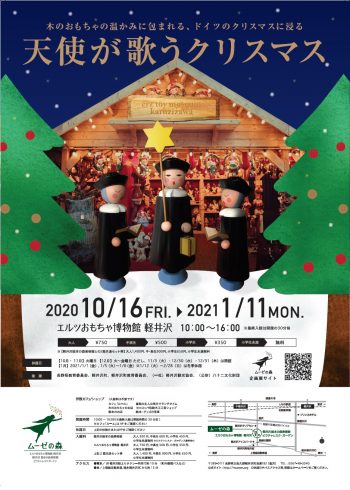 Angels, choirs, nativity…
Toys for the German Holy Night
Christmas is originally the day to celebrate the birth of Christ. In Germany, there is a culture of Christmas markets, where many wooden toys stand side by side. Christmas is the time when German wooden toys shine brightest.
Many German wooden toys are associated with Christianity, such as miniature "angels" and "choirs. Christmas clippings" depicting scenes of Christ's birth are unique to German toys. Although not so familiar to Japanese culture, these wooden toys are very lovely and provide warmth that transcends national borders.
German wooden toys give us the warmth of wood while conveying culture and history.
We hope that through this exhibition, you will experience the holy night of Christmas in the local area.
session (of a legislature)
Friday, 10/16/2020 – Monday, 1/11/2021
Location
Eltz Toy Museum, Karuizawa
*For details on MAP, entrance fees, etc., go to Tourist Facility Information at the bottom of the page.
Hours of Operation
10:00-16:00 (last admission 15:30) from 10/16 (Fri.) to 2021/1/11 (Mon.)
closed day
October and November] Tuesdays *Open on Tuesday, November 3
December] Tuesday – Friday *Open on 12/30 (Wed.) and 12/31 (Thu.)
Jan. 2021】1/1(Fri.), 5(Tue.)~8(Fri.) *Open on 1/2(Sat.)~4(Mon.) and 1/9(Sat.)~11(Mon.)
Contact Us
0267-48-3340
For more information, visit the official website.