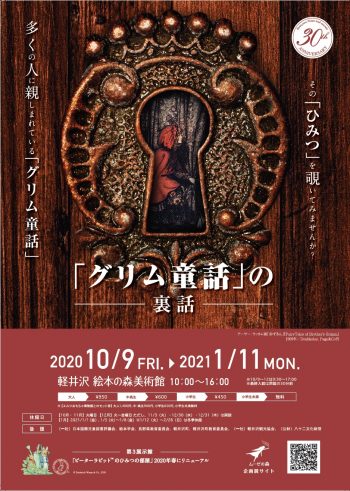 True literature arises from life and returns to life."
The Hidden Intent behind the Formation of "The Grimm's Fairy Tales
Grimm's Fairy Tales" was published in 1812. Many of the tales in the book were passed down from generation to generation. The brothers interviewed and collected the stories from the narrators, and the tales, which had no form, have survived in written form to this day.
In the course of revising the book to its final seventh edition, the brothers added or deleted stories and rewrote expressions.
Along with the illustrations, this exhibition introduces the history and achievements of the Brothers Grimm, as well as their intentions behind this collection of fairy tales.
session (of a legislature)
2020/10/9 (Fri.) – 2021/1/11 (Mon.)
Location
Karuizawa Picture Book Forest Art Museum
*For details on MAP, entrance fees, etc., go to Tourist Facility Information at the bottom of the page.
Hours of Operation
10/9 (Fri.) – 10/12 (Mon.): 9:30 – 17:00 (last admission 16:30)
10:00-16:00 (last admission 15:30) from 10/14 (Wed.) to 2021/1/11 (Mon.)
closed day
October and November] Tuesdays *Open on Tuesday, November 3
December] Tuesday – Friday *Open on 12/30 (Wed.) and 12/31 (Thu.)
Jan. 2021】1/1(Fri.), 5(Tue.)~8(Fri.) *Open on 1/2(Sat.)~4(Mon.) and 1/9(Sat.)~11(Mon.)
Contact Us
0267-48-3340
For more information, visit the official website.