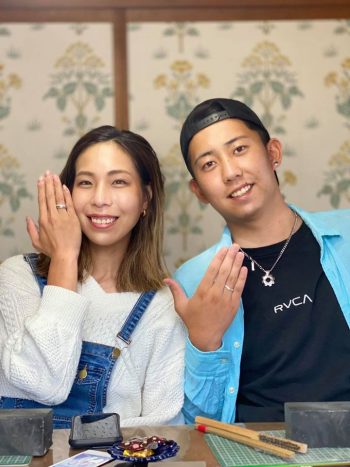 Don't let the virus get the best of you! Let's make a ring of memories!
Perfect for couples & women's travel and family trips!
It is also a good rehearsal for handmade wedding rings for those who visit Karuizawa on a date, for a memorable trip with friends, or for two people who dream of a wedding in Karuizawa♪.
The only original ring in the world! It will be a precious memory of your trip to Karuizawa. Let's make each other a commemorative ring on your autumn trip to Karuizawa♪ You can take the ring home on the same day. We look forward to your early reservations!
Exclusive offers on the official website of the Tourism Association
One stone from three types of transparent stones will be given as a gift!
Please let us know when you make a reservation that you saw the Karuizawa Tourism Association's official website for 2020 Autumn Specials.
Location
Karuizawa Bridal Information Center
*For more information, please go to the tourist facility information at the bottom of the page.
Period & Hours
Through November 30, 2020
Limited to 3 groups per day 10:00-12:00, 13:00-15:00, 16:00-18:00
Fees & Capacity
One sterling silver ring, 7,700 yen, up to 5 people
Closed on Tuesdays & by appointment only, limited to 3 couples per day (can be negotiated even on closed days)
As an anti-virus measure, we would like to ask you for a favor when you visit our store
1. the instructor will show you his/her body temperature and will also take your temperature,
2. please spray the area with a sterilizing spray when entering the restaurant,
3. Place a transparent sheet between you and the customer and explain the situation,
4. open the windows to ventilate the room,
5、When you leave, please wash your hands or spray,
We will do our best to help you create a beautiful ring & memories by adhering to the above. (Owner)
Other
8 parking lots available. 8 minute walk from Karuizawa Station.
Application and Inquiries
Karuizawa Bridal Information Center 0267-41-1888
For more information, visit the official website.