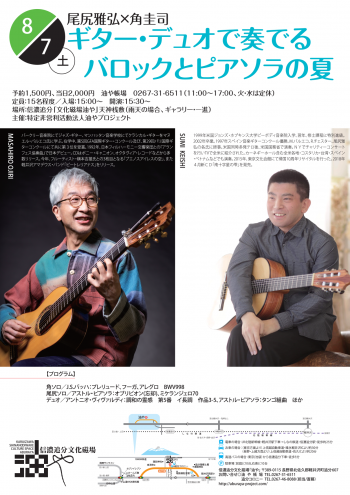 Date: August 7, 2021 (Saturday) Entrance 15:00 Concert begins 15:30
Ticket: 1,500 yen for reservations, 2,000 yen at the door (0267-31-6511 (11:00-17:00, closed on Tuesdays and Wednesdays)
Capacity: about 15 people
Place: Shinano-Oiwake "Bunka-Magneto Aburaya" Tenjin Jashiki (in case of rain, Gallery Isshin)
Programs: ● Programs: ● Programs: ● Programs: ● Programs: ● Programs: ● Programs
Horn Solo: J.S. Bach: Prelude, Fugue, Allegro BWV998
Tailor Solo: Astor Piazzolla: Oblivion (Oblivion), Michelangelo 70
Tail butt/horn duo:
Antonio Vivaldi: Inspiration of Harmony No. 5 in A major, Op. 3-5
Astor Piazzolla: Tango Suite, etc.
Masahiro Ojiri
He studied jazz guitar at the Berklee College of Music and classical guitar at the Manhattan School of Music with Manuel Barrueco. In 1992, he made his debut in Japan with "Aranjuez Concerto" with the Japan Philharmonic Orchestra, and has released many CDs from Pony Canyon, Octavia Records, and others. This year, he released his third CD with flutist Yoshio Makimoto, "Buenos Aires Sky," as well as "Beatlerianas" with the Karuizawa Amadeus Band.
Keiji Sumi
Entered Peabody Conservatory of Music, Johns Hopkins University, U.S.A., in 1999, and received special promotion to master's degree the following year; graduated in 2002; won the first prize at the 1997 Spanish Music Guitar Competition; studied under M. Barrueco, R. Chester, and Masahiro Ojiri. Performed at the U.S. State Department after the terrorist attacks in the U.S. Performed a charity concert in New York, which was introduced nationwide on TV. Performed throughout the U.S. including Carnegie Hall, Costa Rica, Taiwan, Spain, Vietnam, etc. In 2015, gave a recital at Tokyo Bunka Kaikan to celebrate the 10th anniversary of his return to Japan. 2018 April, released his new CD "Southern Cross Drops".