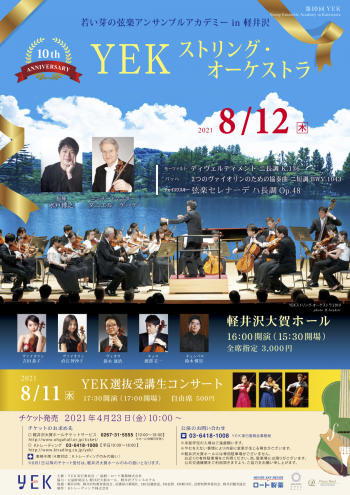 *Click on the image to open the PDF file.
The 10th YEK YEK String Orchestra conducted by Hiroyuki Mito
Karuizawa Ohga Hall August 12, 2021 [Thursday].
Doors open 15:30, Concert begins 16:00, scheduled to end 18:00
The 10th Young Buds String Ensemble Academy in Karuizawa
performance
Hiroyuki Mito, conductor
Daniel Goede, Kyoko Yoshida, Chisako Naoe (violin)
Yasuhiro Suzuki, viola
Genichi Watanabe, cello
Shin Takashi Suzuki, harpsichord
All YEK students
program
Mozart: Divertimento K.136
Bach: Concerto for 2 Violins BWV.1043
Tchaikovsky: Serenade for Strings, Op.48
Charge
All seats reserved 3,000 yen
Ticket Application
Karuizawa Ooga Hall Ticket Service tel. 0267-31-5555 (10:00-18:00)
You can choose your seat. Reservations can be made by phone up to 1 day prior to the performance.
Over-the-counter payments are cash only.
http://www.ohgahall.or.jp/ticket/ticket_tel.php
K Trading tel. 03-6418-1008 (weekdays 10:00-18:00)
*Wheelchair seats (4 seats available) will be handled by K-Trading only.
*Only Karuizawa Ohga Hall Ticket Service will be available to accept tickets after August 1.
Contact Us
YEK Executive Committee Office (in K Trading) tel. 03-6418-1008 (weekdays 10:00-18:00)
https://www.ktrading.co.jp/yek/
Other
*Preschool children are not allowed to enter.
 Click here for information on nearby childcare services.
http://www.ohgahall.or.jp/faq/index.php#child