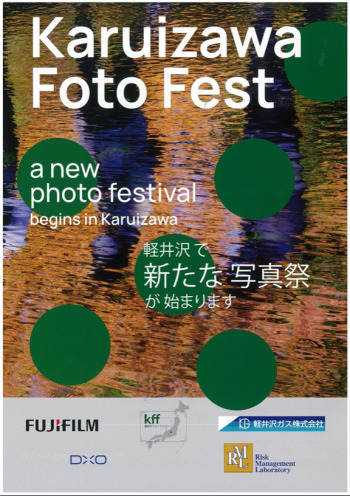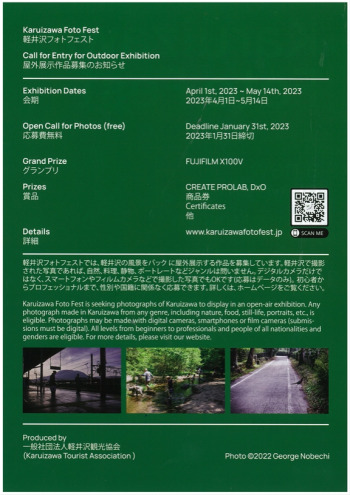 Karuizawa Photo Fest (KFF) is a new initiative to further develop the legacy of Karuizawa's long history and natural richness, and is a community-led festival to enjoy photography of all genres in the open air. Your photos will also be a part of this exhibition. Your photos may be seen by thousands of people as part of this exhibition.
During the exhibition, there will also be events to showcase Karuizawa's potential as a mecca for art and photography. Please join us for a photo walk, stamp rally, workshops, and many other events. For those traveling to Karuizawa to participate in KFF, discount hotel packages and coupons for various cafes and restaurants are also available.
In addition, the grand prize winner will receive an X100V camera from main sponsor FUJIFILM, as well as a gift certificate and other extra prizes from CREATE Fujifilm's ProLab service. The Grand Prix winner's photograph will be permanently archived in the new Karuizawa Town archive. In addition, the KFF Committee Prize will be awarded to the winner, whose work and name will appear on official KFF postcards and posters, for which royalties will be paid.
prize
Grand Prix Winner: FUJIFILM X100V Mirrorless Camera
Grand Prix winner: to be permanently archived in the new Karuizawa Town archive
Honorable Mention Award and other extra prizes: prize tickets at FUJIFILM CREATE Lab, and many others.
cofferdam
January 31, 2023 23:59 (Japan time)
Extended until 23:59 (Japan time) on February 7, 2023!
exhibit
jpeg file within 5MB, s RGB format, length 2000px or more
Please submit the image file name in the format "first_name_name_number.jpg".
*No RAW files in the first screening
How to participate
Apply using the online application form
For more information, click here.
entry qualifications
Regardless of age, gender, nationality, or level of experience
entrance fee
free