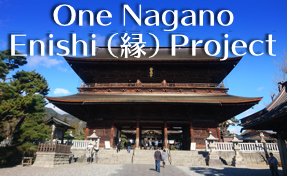 A bridge of revival from the land of Shinshu – Connecting people and communities with a feeling of gratitude
One Nagano Enishi Project is now underway.
 In response to the recent outbreak of the new coronavirus, the Nagano Prefectural Tourism Organization has decided to implement a new project that combines cultural promotion and tourism PR for both domestic and Taiwanese destinations in cooperation with the local communities in the prefecture.
 Taiwan is the country that has the largest number of visitors to Nagano Prefecture, and since various parts of the prefecture have made efforts to deepen ties with various parts of Taiwan and lead to mutual development, such as the exchange agreement between Sanyi Township in Miaoli County and Karuizawa, the cooperation between Shinano Railway and Taiwan Railway Administration, and the exchange between commerce and industry in Matsumoto City and Tainan, as well as strong desire for travel to Japan within Taiwan In addition to the domestic activities in Japan, Taiwan was selected as the first overseas location for the exchange. With the support of Miaoli County and Sanyi Township, the local Taiwan event will be held at Shengxing Station, where the "Old Mountain Line Rail Bike", which utilizes an abandoned railway line, arrives and departs, with the cooperation of the rail bike and the local shopping district.
 From the Japanese side, we would like to begin transmitting the voices of the prefecture's residents and tourism business operators in song from Zenkoji Temple, the land of Inori. Starting with the live streaming from Zenkoji Daikojin Temple, we would like to continue to convey our hearts and voices in song from scenic spots throughout the prefecture. There is also a Zenkoji Temple in Taipei City's Xinbeitou hot spring resort area, which was founded during the Japanese colonial period. It is the only temple overseas that has a "connection" with the Zenkoji Temple in Shinshu.
In the past, Japan received a large donation from Taiwan at the time of the Great East Japan Earthquake, and at the time of the recent outbreak of the new coronavirus infection, Japan sent masks to medical institutions in Japan. Through this project, we would like to express our gratitude for all the support we have received.
One Nagano Enishi Project Executive Committee
First Event
Date and Time
Saturday, August 1, 12:00 – 13:00
Location
Zenkoji Daikojin, Nagano City
Note: The day of the event will be a live, non-participant live broadcast. The streaming will be done from the URL below. Audience members will not be allowed to enter.
For the media, please contact us in advance if you wish to cover the event. However, please note that we may limit the number of media members during transmission to avoid "3-denseness".
destination URL
https://www.youtube.com/channel/UC8kf1hKYNJ9yocqHgoMzQlQ?view_as=subscriber
Participating Artists
Azumi Takahashi (Vo.),Willie Weeks (Ba.),Chisato Kawaguchi (Dr.),Shoji Oshiro (Sax.),Hirotaka Shimizu (Gt.),Maki Yajima (Key.)
Live Streaming Destination
Shengxing Station, "Old Mountain Line Rail Bike", Sanyi Township, Miaoli County, Taiwan Event site
Future Development
Period: July 2020 – video distribution on YouTube as needed
Related Documents
Nagano Prefecture Press Release One Nagano Enishi Project
One Nagano Enishi Project First Event Press Brief
Taiwan's gratitude for the various forms of support
Sangigo and Karuizawa Genealogy
Karuizawa Tourism Association / Sanyi Township, Miaoli County, Taiwan